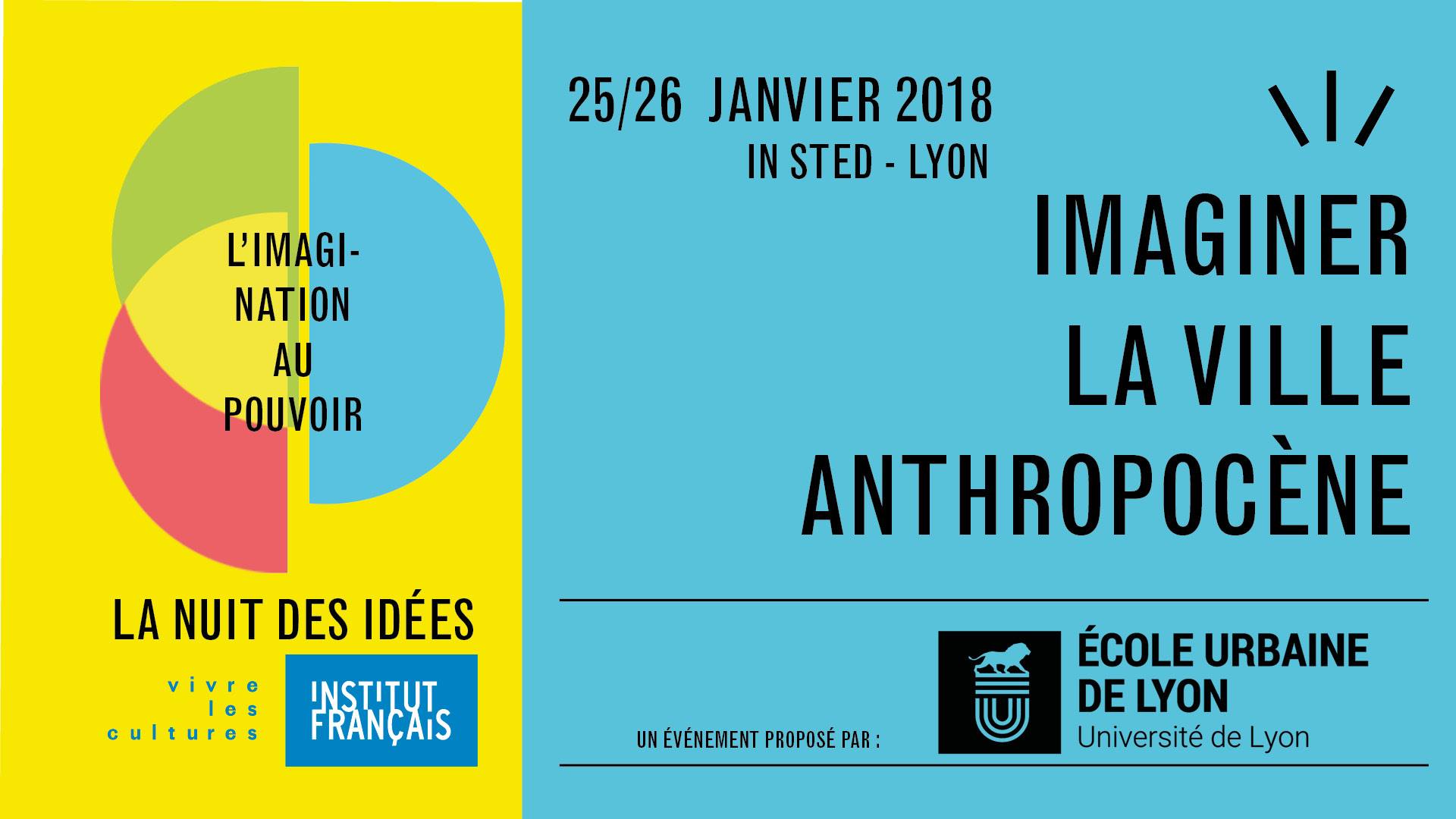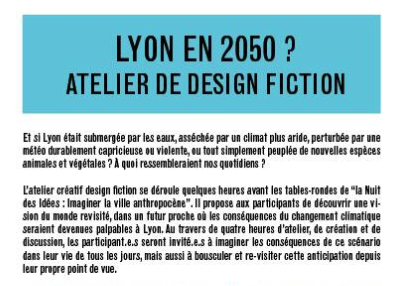 Il reste quelques places pour l'atelier de Max Mollon "Lyon en 2050″ ! Pour avoir eu la chance de participer à des ateliers de "design fiction" avec lui, je ne saurais que trop vous conseiller de vous inscrire ! C'est ouvert à tous, et ça marche encore mieux si nous avons des participant.e.s aux profils très différents. Pas besoin d'être designer, scientifique, universitaire ou même de savoir ce que signifie "anthropocène". Il suffit d'aimer discuter, brainstormer, inventer… bref, imaginer ensemble ! Et c'est bien sûr gratuit 

 Pour les inscriptions, c'est par là : https://goo.gl/forms/nVP9MGYqJgIIFWZV2

 Dans le cadre de La Nuit des idées : Imaginer la ville anthropocène le jeudi 25 janvier de 14h à 18h.
(Photos et textes par October Octopus – Cedric Duroux)
October Octopus 
 vous remercie chaleureusement pour ces deux jours d'imagination collective au pouvoir chez In-Sted pour La Nuit des idées : Imaginer la ville anthropocène. On vous donne RDV l'année prochaine !!!
– Thank you ever so much Kabir Mokamel, Omaid Sharifi (ArtLords) and Cart'1 ! 
‍
 (thanks Institut français d'Afghanistan – IFA, Pascal Hanse and Hervé Ferrage for making this happen!) Kabir, Omaid, I'll see you in Kabul!
– Mille mercis également, par ordre d'apparition, à : Émilie Notéris 
, Max Mollon 
, Catherine Larrère 
, Anne AR 
 (I AM with them), Francois Gemenne, Cyrille Hanappe, Claire Rodier, Cécile Daumas (Libération), Julie Plozner (Groupe Singa Lyon) 
, Julie Le Gall, Guillaume Faburel, Etienne Josien 
, Alfonso Pinto 
, Emmanuelle Pireyre 
, Bertrand Stofleth 
, Marie-Monique Robin
✊, Archipel CDCU 
, Olivier Hamant, Raphaël Bourgois,AOC le 
 (thanks Sciences Po Lyon, Renaud Payre, Isabelle Garcin-Marrou), Jean-Yves Toussaint, Estelle Loukiadis, Sylvie Barraud 
️ 
, Mathilde Girault, Thibaud Cavaillès (+ Air Z, Assemblée de la Plaine, Afev Grand Lyon, Atelier Bivouac, Atelier CAPACITES, Atelier Populaire d'Urbanisme Villeneuve, Yes We Camp, Alternatiba…), Isa Duroux, Membre Singa Lyon , Singa Lyon, Singa Lyon Buddy, Le Petit Bulletin Lyon.
– Merci à Jean-Philippe Geoffray pour la technique, Dawn Sheridanpour l'interprétariat, et Koko pour la 
 !
– Merci à l'École Urbaine de Lyon (Michel Lussault et François Pirola) pour votre confiance. Et merci INSTITUT FRANÇAIS pour cette initiative.
Et last but not least, bravo à Grégory Fayolle, qui a assuré comme un chef !